Andreas Roepstorff appointed new head of school
Professor Andreas Roepstorff has been appointed to the position of head of the School of Culture and Society as of 1 April 2022.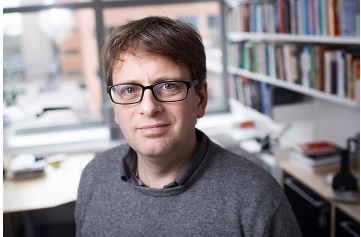 Roepstorff is currently the deputy head of school with responsibility for research. His new job will involve continuing the process of positive development that the school is currently enjoying. He is replacing Bjarke Paarup, who will be returning to his research at the Department of Anthropology after ten years as head of school.
Roepstorff is an anthropologist and biologist. He is an internationally respected professor in the field of brain and cognition research. During his many years as director of the Interacting Minds Centre, he has been a strong driving force for cross-disciplinary studies – leading to a number of major research awards in recognition of his innovative and cross-disciplinary research into human culture and biology.
So the dean, Johnny Laursen, is delighted that such a strong candidate will now be continuing the positive development of the school as well as helping to strengthen the organisation:
"I'm delighted that we can now appoint Andreas Roepstorff as the new head of the School of Culture and Society. Andreas is well-known at Aarhus University for his involvement in innovative, cross-disciplinary research and his contribution to national collaboration with a view to improving the conditions for academia. I'm confident that he will continue the excellent academic progress which the school has been enjoying for a long time, as well as making an important contribution to the work of the faculty management team," says Laursen.
Complex problems require interdisciplinary approaches
When Roepstorff became deputy head of school with responsibility for research one and a half years ago, he said:
"The school does fantastic research into the past, present and future; into nature and culture; and into small-scale and large-scale issues. The school has been growing fast in recent years, thanks partly to grants from sources other than the Danish Council for Independent Research and foundations designed for the more classical humanities. The competences we possess at the school are particularly relevant in relation to a range of complex problems requiring interdisciplinary approaches. As deputy head of school with responsibility for research, I hope I can help to support new initiatives and activities – preferably across multiple departments and centres. I am proud to be joining the school management team and look forward to getting started."
This interdisciplinary approach will continue to be a point of focus at the school, explains Roepstorff, who also has a few words to say about the immediate future:
"The School of Culture and Society is a fantastic place. It's creative, inclusive, academic and inspiring. It's a great honour to have the chance to continue our focus on these qualities. We are clearly living in a complex and conflictual period of human history. And the ability to navigate in such choppy waters requires insight into both culture and society. The kind of knowledge we need can't be acquired from one day to the next. I believe that academic knowledge and basic research can supply us with important tools to help us deal with the uncertain situation we are facing at present. This is not only relevant for academic environments – it will also have an impact on the students and our partners both inside and outside the university," says Roepstorff.
---
Further information
Professor Andreas Roepstorff
School of Culture and Society
Aarhus University
Email: andreas.roepstorff@cas.au.dk
Landline: (+45) 8716 2124
Mobile: (+45) 2636 2772